An Analytical Study of the Responses of Advanced Students of Translation to Different Translation Problems*
Suzan Mohammed Qasim _ Kadhim Al-Ali

UniveUniversity of Misan _ University of Basrah
Keywords:
translation response, evaluting students' responses, Arabic-English-Arabic translation, translation background knowledge
Abstract
The present study aims to evaluate the students' theoretical background knowledge about translation which they have developed throughout their academic study as well as exploring the most difficult translation problems for the students. The study consists of a set of important preliminaries. Review of related literature, methodology followed and  finally the conclusions which are based on the results in addition to the recommendations and suggestions for further studies.
Downloads
Download data is not yet available.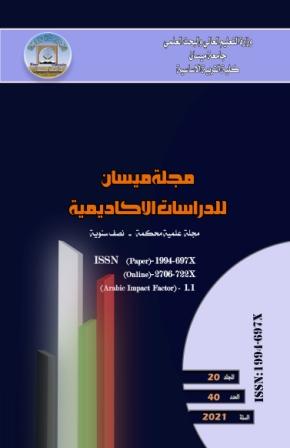 The copyright is also the copyright of the magazine only.
All articles published in our magazine are subject to license terms
Creative Commons Attribution(CC BY-NC-ND 4.0) This license permits the content to be reproduced, redistributed and reused in whole or in part for any purpose free of charge, without any permission from the author(s), researcher or student.
Works submitted to Maysan Journal of Academic Studies for publication in the journal (CC BY-NC-ND 4.0) license terms. Where available content can be shared, distributed and replicated provided there is no commercial profit and appropriate credit must be given to the original source through sources or citations. It is mandatory to review any material used from other sources including shapes, tables, and images for re-use under the terms of the Creative Commons License (CC BY-NC-ND 4.0).Provided that there is no modification to the original content