Abd al-Muttalib Daoud Mahdi Al-Husayni Al-Hilli and his role in the Literary and intellectual Renaissance (1865-1920).
Nadia Jasem Kadhim Ali / Hala Mahdi kayri Al-Dulaimi

University of Babylon Babylon Centre for cultural and historical Studies Department of History Babylon,51001
Keywords:
Abdul Muttalib Al-hili,his role in the literary renaissance,Daoud Mahdi,the poet of the constitutional movement,the intellectual renaissance
Abstract
The study explained that Abd al-Muttalib Daoud al-Hilli was one of the distinguished Iraqi Personalities in the Context of Studying the History of modern and contemporary Iraq. Abd al-Muttalib was a famous jurist, writer, and poet, and one of the most famous figures of literature in Mesopotamia for nearly forty years. He was characterized by accuracy and intelligence. He was one of the most famous pioneers of the intellectual movement in the nineteenth and twentieth centuries. This was collected, explained, and published by the poetic bureaus, which were considered a forum for the creation of poetry and a platform for poets to reconcile, and models for scholars and writers of his time to emulate, and were considered sources from which researchers draw accurate information at present.
DOI/10.54633/2333-021-042-002
Downloads
Download data is not yet available.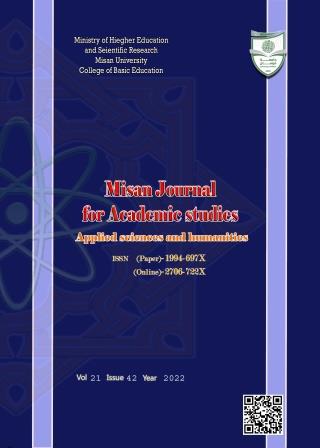 Copyright (c) 2022 Misan Journal of Academic Studies
This work is licensed under a Creative Commons Attribution-NonCommercial-NoDerivatives 4.0 International License.
The copyright is also the copyright of the magazine only.
All articles published in our magazine are subject to license terms
Creative Commons Attribution(CC BY-NC-ND 4.0) This license permits the content to be reproduced, redistributed and reused in whole or in part for any purpose free of charge, without any permission from the author(s), researcher or student.
Works submitted to Maysan Journal of Academic Studies for publication in the journal (CC BY-NC-ND 4.0) license terms. Where available content can be shared, distributed and replicated provided there is no commercial profit and appropriate credit must be given to the original source through sources or citations. It is mandatory to review any material used from other sources including shapes, tables, and images for re-use under the terms of the Creative Commons License (CC BY-NC-ND 4.0).Provided that there is no modification to the original content