The Adopted Bequest in Islamic Law
(Under the shade of Qur'an, Sunnah and Islamic Schools)
shahid chamran/ Haitham muzhir Mohi

university of .ahvas .ahvas .iran
Keywords:
Legacy - predictor- Canon- Adjudging- Quran- Sunday- jurists- Doctrines
Abstract
 Adopted's heritage social jurisprudence research in Islamic Sharia He is entitled to an amount of the estate not exceeding one third of the estate of the adopter, as all agreed not to prove his true filiation so that the lineages would not be mixed, and it would result in the analysis of what was forbidden and the prohibition of what was permitted. It also shows how important and dangerous this issue is from its various social and legal dimensions.
DOI /10.54633/2333-021-042-003
Downloads
Download data is not yet available.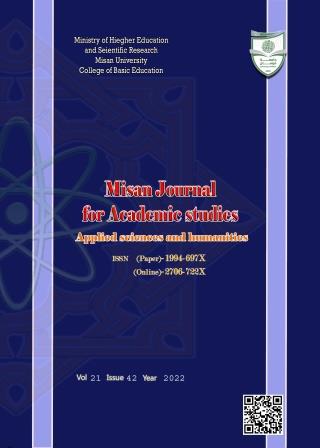 Copyright (c) 2022 Misan Journal of Academic Studies
This work is licensed under a Creative Commons Attribution-NonCommercial-NoDerivatives 4.0 International License.
The copyright is also the copyright of the magazine only.
All articles published in our magazine are subject to license terms
Creative Commons Attribution(CC BY-NC-ND 4.0) This license permits the content to be reproduced, redistributed and reused in whole or in part for any purpose free of charge, without any permission from the author(s), researcher or student.
Works submitted to Maysan Journal of Academic Studies for publication in the journal (CC BY-NC-ND 4.0) license terms. Where available content can be shared, distributed and replicated provided there is no commercial profit and appropriate credit must be given to the original source through sources or citations. It is mandatory to review any material used from other sources including shapes, tables, and images for re-use under the terms of the Creative Commons License (CC BY-NC-ND 4.0).Provided that there is no modification to the original content