Surveillance cameras and their impact on stopping deviant behavior from the point of view of the Anbari community, Fallujah as a model
(الفلوجة إنموذجا) دراسة تطبيقية ميدانية
Abedalraazzaq jasseim mahmood /Ahmed mohammed mutlaq

University of Fallujah - College of Islamic Sciences - Iraq
Keywords:
Surveillance cameras- deviant behavior
Abstract
The aim of the research is to identify the role of surveillance cameras and their impact on curbing deviant behavior from the point of view of society, and came through the researchers' focus on the changes that the world is witnessing, and the qualitative leap that shortened it a lot of time and effort in dealing with societal security requirements against behavioral deviations such as theft, addiction and sexual harassment And extremism that may appear as a result of social, economic and subjective factors that threaten its security, among these means are surveillance cameras, which have become the watchful eye in every time and place, whereby their presence has changed a lot of individuals' behavior in terms of discipline and a sense of security, which is reflected on security in general, as it has proven a lot of Studies The effect of the camera on changing the behavior of individuals and changing the way they think. The researchers used the descriptive method. The study sample amounted to (283.625739) from the study population in the city of Fallujah for the year 2020/2021. One of the most important results of the research was that the camera contributes to easily identifying the thief: first for girls and fourth for males, while a section that controls the camera occupied the violations committed by some vehicle drivers on the external roads, the first for males and the second for females. A paragraph: The camera contributes to the speed of crime detection in the third place for both sexes, and a paragraph that helps the camera in detecting crime traces with high accuracy ranked fourth among females and fifth in males. A paragraph that helps the camera find out when the criminal will leave and return home is ranked fifth among both sexes. This agreement shows the spread of the phenomenon of using the camera in many homes, markets and companies, so that the person feels as if he is under constant surveillance, which prompted him to avoid many of the behaviors that may be recorded on him.
DOI /10.54633/2333-021-042-004
Downloads
Download data is not yet available.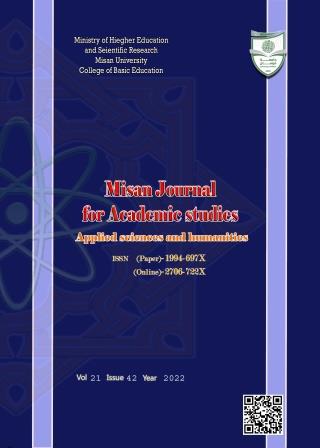 Copyright (c) 2022 Misan Journal of Academic Studies
This work is licensed under a Creative Commons Attribution-NonCommercial-NoDerivatives 4.0 International License.
The copyright is also the copyright of the magazine only.
All articles published in our magazine are subject to license terms
Creative Commons Attribution(CC BY-NC-ND 4.0) This license permits the content to be reproduced, redistributed and reused in whole or in part for any purpose free of charge, without any permission from the author(s), researcher or student.
Works submitted to Maysan Journal of Academic Studies for publication in the journal (CC BY-NC-ND 4.0) license terms. Where available content can be shared, distributed and replicated provided there is no commercial profit and appropriate credit must be given to the original source through sources or citations. It is mandatory to review any material used from other sources including shapes, tables, and images for re-use under the terms of the Creative Commons License (CC BY-NC-ND 4.0).Provided that there is no modification to the original content