Estimating the volume of water losses in the irrigation industrial crops project in Aziziyah district and ways to raise its efficiency
Ayad A. Ali Salman Al-Shammery/ natiq hashim tufan alshamry/ Najah A. Owayez Al-Ghasham

College of Basic Education/ Wasit University Directorate/Ministry of Education/ College of Sciences Wasit University
Keywords:
Irrigation industrialization project, Azizia district, water losses, leaching, evaporation, irrigation efficiency.
Abstract
The research dealt with a geographical study of the industrial crops project located on the left bank of the Tigris River in the district of Aziziyah, as it is one of the large irrigation projects that irrigates an agricultural area of ​​20,000 acres, extending for a distance of 37 km. The natural and human characteristics of the study area, and the importance of the project in terms of agricultural, industrial and marketing terms, and its important economic role have been exposed.
The research reviewed a number of manifestations and negative effects of the project's water losses, including the formation of swamps and ponds, the salinization of the lands adjacent to the project and the expansion of the environmental pollution of the area, as well as the lack of water shares for the lands on the outskirts. The reasons for the occurrence of waste from the project water were also investigated, which were mainly represented by the process of leaching and evaporation, and an attempt was made to calculate the amount of wasted water and then estimate the efficiency of the irrigation project and suggest some solutions to help reduce or reduce those losses.
DOI /10.54633/2333-021-042-007
Downloads
Download data is not yet available.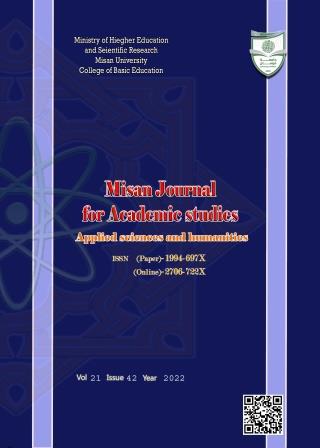 Copyright (c) 2022 Misan Journal of Academic Studies
This work is licensed under a Creative Commons Attribution-NonCommercial-NoDerivatives 4.0 International License.
The copyright is also the copyright of the magazine only.
All articles published in our magazine are subject to license terms
Creative Commons Attribution(CC BY-NC-ND 4.0) This license permits the content to be reproduced, redistributed and reused in whole or in part for any purpose free of charge, without any permission from the author(s), researcher or student.
Works submitted to Maysan Journal of Academic Studies for publication in the journal (CC BY-NC-ND 4.0) license terms. Where available content can be shared, distributed and replicated provided there is no commercial profit and appropriate credit must be given to the original source through sources or citations. It is mandatory to review any material used from other sources including shapes, tables, and images for re-use under the terms of the Creative Commons License (CC BY-NC-ND 4.0).Provided that there is no modification to the original content