Teaching Skills of English Language Teachers in the Primary Stage from Their Point of View
Jamal khssif Alalway

University of Misan/College of Basic Education
Keywords:
English language, planning, implementation, evaluation and teaching skills.
Abstract
The aim of the research is to identify the level of teaching skills of English language teachers in the primary stage from their point of view. The research sample consisted of (45) male and female English language teachers in Maysan with (23 teachers) and (22 female teachers), and the researcher built His research tool consists of a set of standards for teaching skills amounting to (38 items) distributed over three skill areas, which are the skill (planning, implementation, evaluation) in teaching. The research indicated that the level of teaching skills of English language teachers is average, and its arrangement according to the data obtained was (the skill of implementing the lesson) in the first place, then (the assessment skill) in the second place, and then (the skill of teaching planning) in the third place, and the results showed that only In the skill (planning) in favor of males, and there are also no statistically significant differences among English language teachers according to the school's place in my skills (planning and evaluation), and there is a statistical difference in the skill (implementation) only, and at the end of the research the researcher presented a set of recommendations and suggestions at light search results
DOI /10.54633/2333-021-042-008
Downloads
Download data is not yet available.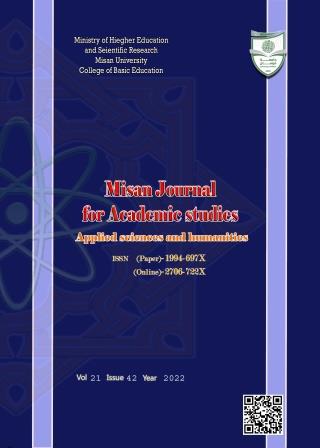 Copyright (c) 2022 Misan Journal of Academic Studies
This work is licensed under a Creative Commons Attribution-NonCommercial-NoDerivatives 4.0 International License.
The copyright is also the copyright of the magazine only.
All articles published in our magazine are subject to license terms
Creative Commons Attribution(CC BY-NC-ND 4.0) This license permits the content to be reproduced, redistributed and reused in whole or in part for any purpose free of charge, without any permission from the author(s), researcher or student.
Works submitted to Maysan Journal of Academic Studies for publication in the journal (CC BY-NC-ND 4.0) license terms. Where available content can be shared, distributed and replicated provided there is no commercial profit and appropriate credit must be given to the original source through sources or citations. It is mandatory to review any material used from other sources including shapes, tables, and images for re-use under the terms of the Creative Commons License (CC BY-NC-ND 4.0).Provided that there is no modification to the original content