Geographical analysis of the frequency of rainy days remaining for more than two days in stations (Baghdad, Al-Amarah and Al-Hay)
Talib Abbas Karim / Saddam Razzaq Abboud

General Directorate of Education Misan
Keywords:
rain wave, direction of change, p-value, synoptic maps, pressure level of (1000 milliards)
Abstract
The study depended on determining the number of continuous rainy days in which more than two days were registered in thr0ee climatic stations (Baghdad, Al-Amarah, and Al-Hay) during the rainy
seasons (2009-2020), the study turned out that the replication is on the increase in all
station, where during the rainfall it tends to decrease in Baghdad's station as well as Al-Amarah's station, but it is towards increase in Al-Hay's station, Baghdad's station registered higher repetition in continuous rainy days than a couple of days, nearly 44 repetitions, The total of continuous rainy days was 158 days, as well as the rainfall registered during the repetition of continuous rainy days in which it rained for more than two days was nearly (1010.8) millimeters, the study explored that through surface and upper map monitoring in low pressure areas, atmospheric depression was the most influential depression in increasing the duration of the rain wave and the continuation of rain for more than two days during the study period.
DOI /10.54633/2333-021-042-010
Downloads
Download data is not yet available.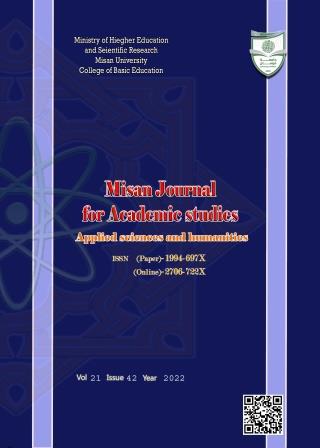 Copyright (c) 2022 Misan Journal of Academic Studies
This work is licensed under a Creative Commons Attribution-NonCommercial-NoDerivatives 4.0 International License.
The copyright is also the copyright of the magazine only.
All articles published in our magazine are subject to license terms
Creative Commons Attribution(CC BY-NC-ND 4.0) This license permits the content to be reproduced, redistributed and reused in whole or in part for any purpose free of charge, without any permission from the author(s), researcher or student.
Works submitted to Maysan Journal of Academic Studies for publication in the journal (CC BY-NC-ND 4.0) license terms. Where available content can be shared, distributed and replicated provided there is no commercial profit and appropriate credit must be given to the original source through sources or citations. It is mandatory to review any material used from other sources including shapes, tables, and images for re-use under the terms of the Creative Commons License (CC BY-NC-ND 4.0).Provided that there is no modification to the original content