Doctrinal difference in the issue of resurrection and the field of tolerance
Sadeq Kazem Maklef

A teacher at General directorate for Education in the province of Maysan
Keywords:
resurrection, theologians, philosophers, physical, spiritual, the field of tolerance in faith.
Abstract
The Islamic religion emphasized on the basis of tolerance and forgiveness in all aspects of life, because of its great importance in building society and preserving its unity, and among the basics of thought and reason produces different opinions and ideas, which seem to provoke difference and disunity apparent, but they are natural things for human thought and a positive evidence of activity Intellectual and mental in humans, provided that it does not deviate from the paths of righteousness and leads to the destruction of society with negative thoughts.
As for the opinion of some Islamic philosophers and some theologians, and when they have contradicted the consensus and what the explicit Islamic texts indicate from the Qur'an and Sunnah regarding the resurrection of the soul and the body together, and then they have violated this necessity of the necessities of the Islamic religion, then according to this criterion they are outside Islam and condemn the body disbelief.
However, by reviewing the opinions of Islamic scholars, especially the contemporary ones, we find that they have left room for tolerance to flow in.
Among that difference is the doctrinal difference that dealt with the issue of the Resurrection as a model for that, which is one of the most prominent and most important doctrinal issues in Islam, and Muslim thinkers have been interested in researching this issue greatly through the many effects, and I showed the opinions that dealt with this issue in brief, then we dealt with the field of tolerance With that difference in the true Islamic religion and the extent of the impact of tolerance on the intellectual construction and advancement of society, especially since thinking and knowledge research has a great role in building and progressing.
The research was divided into an introduction, a preface, four chapters and a conclusion, and it relied on the sources of language, speech, philosophy and related sources.
DOI /10.54633/2333-021-042-019
Downloads
Download data is not yet available.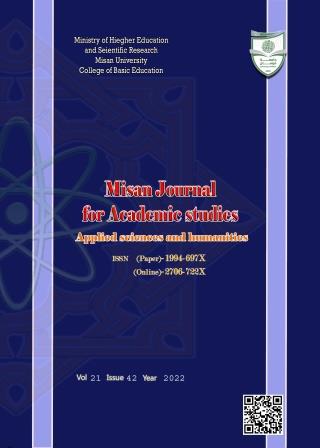 Copyright (c) 2022 Misan Journal of Academic Studies
This work is licensed under a Creative Commons Attribution-NonCommercial-NoDerivatives 4.0 International License.
The copyright is also the copyright of the magazine only.
All articles published in our magazine are subject to license terms
Creative Commons Attribution(CC BY-NC-ND 4.0) This license permits the content to be reproduced, redistributed and reused in whole or in part for any purpose free of charge, without any permission from the author(s), researcher or student.
Works submitted to Maysan Journal of Academic Studies for publication in the journal (CC BY-NC-ND 4.0) license terms. Where available content can be shared, distributed and replicated provided there is no commercial profit and appropriate credit must be given to the original source through sources or citations. It is mandatory to review any material used from other sources including shapes, tables, and images for re-use under the terms of the Creative Commons License (CC BY-NC-ND 4.0).Provided that there is no modification to the original content