The Syrian crisis and Attitude League of Arab States Of which 2011_ 2018
Hassan Mawat Hussein / Husham Naeem Ghlaim lkaapi

Ministry of Education _ Directorate of Education Misan
Keywords:
The Syrian crisis, League of Arab States, Syrian
Abstract
The Syrian crisis reflected its effects on its internal conditions and on Arab and regional states and organizations, prompting those countries and
organizations to take positions towards the crisis.
 The League of Arab States was one of the organizations that had a stance towards the crisis, and accordingly, the topic (The Arab League's position on the Syrian crisis 2011-2018) was chosen.
   The research plan was defined by two studies. In the first topic it showed the reasons for the outbreak and start of the Syrian crisis, and in the second topic it dealt with the position of the Arab League towards the crisis through the decisions it issued, whether at the level of ministers or Arab summits that were held during the period of the research, and in conclusion the most important results and conclusions are clarified. Reached by the researcher.
DOI /10.54633/2333-021-042-021
Downloads
Download data is not yet available.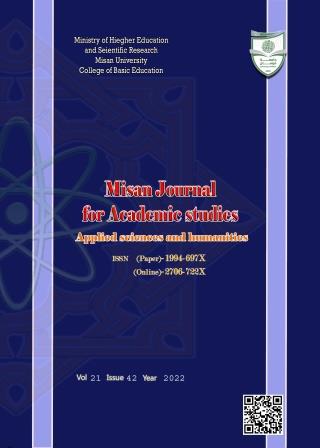 Copyright (c) 2022 Misan Journal of Academic Studies
This work is licensed under a Creative Commons Attribution-NonCommercial-NoDerivatives 4.0 International License.
The copyright is also the copyright of the magazine only.
All articles published in our magazine are subject to license terms
Creative Commons Attribution(CC BY-NC-ND 4.0) This license permits the content to be reproduced, redistributed and reused in whole or in part for any purpose free of charge, without any permission from the author(s), researcher or student.
Works submitted to Maysan Journal of Academic Studies for publication in the journal (CC BY-NC-ND 4.0) license terms. Where available content can be shared, distributed and replicated provided there is no commercial profit and appropriate credit must be given to the original source through sources or citations. It is mandatory to review any material used from other sources including shapes, tables, and images for re-use under the terms of the Creative Commons License (CC BY-NC-ND 4.0).Provided that there is no modification to the original content