Measuring the attitudes of the Iraqi public towards the public relations practices of
Empirical Study))
Ali Jabbar Al-Shammari / Laith Sabbar Jaber

University of Baghdad / College of Mass Communication / University of Maysan / College of Political Science
Keywords:
.Trends .audience .public relations .democratic practices .
Abstract
This research attempts to show the importance and role of public relations for state institutions in general and for specialized organizations in particular in spreading awareness and forming trends about democratic practices in Iraq through the researcher's reliance on a survey of the Iraqi public to find out its attitudes towards democracy indicators by being exposed to public relations programs and activities in government institutions concerned with publishing those practices, where the research results showed that 78.8% of the respondents do not have a party affiliation, in addition to the "social networking sites on the Internet" category, with a mean of 3.61 in the public's quest for information on democratic practices. , While most respondents agreed to a large extent that "public relations programs did not succeed in forming a perception that democratic practice applied the principle of equal opportunities for all citizens to obtain public jobs in the state." Research recommendations: The researcher recommends that the results of this study should be generalized The study on the general public, political parties and the media as part of the education process on democratic practices, and the researcher reached to build a real scale to measure the The practices of democracy in Iraq are based on "many requirements and indicators derived from the levels of political, social and economic development of the country, and in diagnosing democratic practices accurately and objectively, away from political and ideological positions." Therefore, the researcher recommends the concerned parties to review it and benefit from its results to evaluate democracy in Iraq in other years.
DOI /10.54633/2333-021-042-029
Downloads
Download data is not yet available.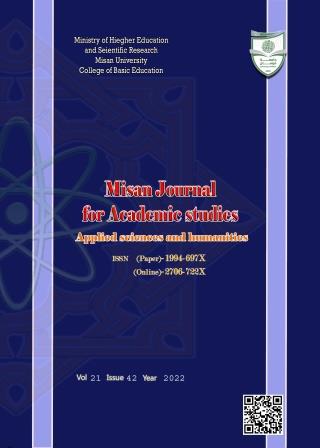 Copyright (c) 2022 Misan Journal of Academic Studies
This work is licensed under a Creative Commons Attribution-NonCommercial-NoDerivatives 4.0 International License.
The copyright is also the copyright of the magazine only.
All articles published in our magazine are subject to license terms
Creative Commons Attribution(CC BY-NC-ND 4.0) This license permits the content to be reproduced, redistributed and reused in whole or in part for any purpose free of charge, without any permission from the author(s), researcher or student.
Works submitted to Maysan Journal of Academic Studies for publication in the journal (CC BY-NC-ND 4.0) license terms. Where available content can be shared, distributed and replicated provided there is no commercial profit and appropriate credit must be given to the original source through sources or citations. It is mandatory to review any material used from other sources including shapes, tables, and images for re-use under the terms of the Creative Commons License (CC BY-NC-ND 4.0).Provided that there is no modification to the original content