The Phenomenon of Deviation (Ecart) in Ba'iyyat Antara bin Shaddad
Ali Ghanim Falhi

Ministry of Education - Directorate General of Education in Misan
Keywords:
Pre-Islamic Poetry, modern stylistic studies, Ba'iyyat Antara
Abstract
There is no doubt that pre-Islamic poetry which is an integrated fabric, with its semantic contents, expressive and creative abilities, is not different from modern poetic texts in terms of efficiency and ability.
This study has dealt with the phenomenon of deviation (ecart) as one of the topics that modern stylistic studies have worked on, and unveiled the types of deviation; pictorial, synthetic and rhythmic in Ba'iyyat Antara bin Shaddad, which were unique to this poem rather than other poetic texts.
DOI /10.54633/2333-021-042-030
Downloads
Download data is not yet available.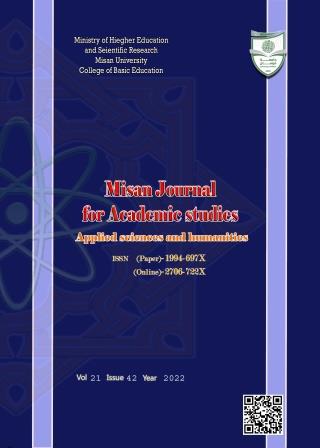 Copyright (c) 2022 Misan Journal of Academic Studies
This work is licensed under a Creative Commons Attribution-NonCommercial-NoDerivatives 4.0 International License.
The copyright is also the copyright of the magazine only.
All articles published in our magazine are subject to license terms
Creative Commons Attribution(CC BY-NC-ND 4.0) This license permits the content to be reproduced, redistributed and reused in whole or in part for any purpose free of charge, without any permission from the author(s), researcher or student.
Works submitted to Maysan Journal of Academic Studies for publication in the journal (CC BY-NC-ND 4.0) license terms. Where available content can be shared, distributed and replicated provided there is no commercial profit and appropriate credit must be given to the original source through sources or citations. It is mandatory to review any material used from other sources including shapes, tables, and images for re-use under the terms of the Creative Commons License (CC BY-NC-ND 4.0).Provided that there is no modification to the original content