A Taxonomic & Ecological Study of the fossils of Selected areas of the marshes of Sothern Iraq
Rasha Abdel-Sattar Kechiche Al-Ali /Sura Asaad Saleem Alshuraida

B.Sc. University of Basra
Keywords:
Marshes, Fossils, Foraminifera, Ostracoda, shellfish.
Abstract
The study was conducted in the southern part of the marshes of Iraq, specifically in the north of Basra governorate, starting from the marshes of northern Basra and ending with the marshes of the Nasiriya border area (Gerbisi). In this study, (7 sites) were identified for taking samples for portholes with a depth of (1 meter) (4) and surface samples with a depth of (20 cm) (17 samples) starting from the north of Rumelia to the borders of Nasiriya And then the stage of laboratory work begins, where the fossils were sorted from the non-solidified sediments by the sorting method, where a part of the original sample 50 g was taken and placed in a glass container (Beaker) to obtain the required results. Several diverse life groups were found, including about 19 species Foraminifera and about 12 species of Ostracoda and 18 types of shellfish.
DOI /10.54633/2333-021-042-032
Downloads
Download data is not yet available.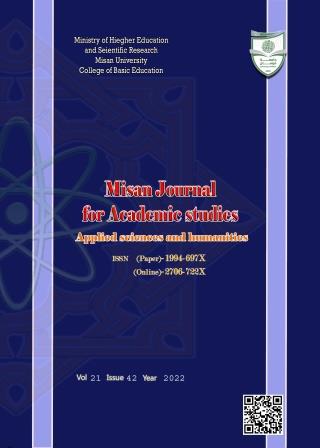 Copyright (c) 2022 Misan Journal of Academic Studies
This work is licensed under a Creative Commons Attribution-NonCommercial-NoDerivatives 4.0 International License.
The copyright is also the copyright of the magazine only.
All articles published in our magazine are subject to license terms
Creative Commons Attribution(CC BY-NC-ND 4.0) This license permits the content to be reproduced, redistributed and reused in whole or in part for any purpose free of charge, without any permission from the author(s), researcher or student.
Works submitted to Maysan Journal of Academic Studies for publication in the journal (CC BY-NC-ND 4.0) license terms. Where available content can be shared, distributed and replicated provided there is no commercial profit and appropriate credit must be given to the original source through sources or citations. It is mandatory to review any material used from other sources including shapes, tables, and images for re-use under the terms of the Creative Commons License (CC BY-NC-ND 4.0).Provided that there is no modification to the original content