Gender between text and reality An applied study in the novel "Alasud yaliq bik"
Keywords:
Gender, masculinity and femininity, Alasud yaliq bik, Al-Ghadami, Qabbani, Al-Sayyab, Al-malayika
Abstract
One of the concepts that have become popular for women's access to their rights and equality with men is gender, and it examines the image of women and men drawn by society according to inherited customs and traditions away from biological features. The issue of gender is the role of men and women imposed on them by society   .
    The research is based on tracing this societal vision in the novel "Lions are worthy of you" after presenting the efforts of researchers who studied gender such as :Abdullah Al-Ghadami and Abdullah Ibrahim. And "black benefits you" can be considered a gender text because it shows the relationship of a man and a woman. By extrapolating the text with its linguistic, objective and constructive events and Jokes, it was ensured that the text is in harmony with reality, including male bullying and women's rebellion against reality in order to reach actual equality, not just verbal.
Downloads
Download data is not yet available.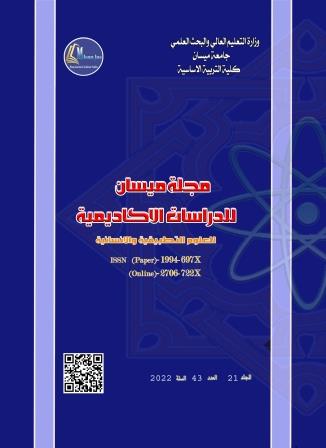 Copyright (c) 2022 Misan Journal of Academic Studies
This work is licensed under a Creative Commons Attribution-NonCommercial-NoDerivatives 4.0 International License.
The copyright is also the copyright of the magazine only.
All articles published in our magazine are subject to license terms
Creative Commons Attribution(CC BY-NC-ND 4.0) This license permits the content to be reproduced, redistributed and reused in whole or in part for any purpose free of charge, without any permission from the author(s), researcher or student.
Works submitted to Maysan Journal of Academic Studies for publication in the journal (CC BY-NC-ND 4.0) license terms. Where available content can be shared, distributed and replicated provided there is no commercial profit and appropriate credit must be given to the original source through sources or citations. It is mandatory to review any material used from other sources including shapes, tables, and images for re-use under the terms of the Creative Commons License (CC BY-NC-ND 4.0).Provided that there is no modification to the original content