Pilgrims factors and the Nexus in Surat Al Qasas
Keywords:
Orbital connections, indication, Surat Al Qasas
Abstract
       The research deals with the study of the argumentative actors and links in Surat Al-Qasas, relying on the descriptive and analytical method. Through it, it was found that the connections formed a prominent effect on the orbital process, As well as its impact on interconnectedness and harmony. Therefore, the argumentative links have an advantage in linking arguments and results in explanation and removing ambiguity and ambiguity. The study proved that the relationships produced by the orbital connections vary according to the heterogeneity of the links, and this allows for a set of relationships. Among them, the relationship of sequence, causation, perception and explanation. The argumentative factors are based on the fact that they limit the significance of the speech to what the intended intention of the addressee. By directing an intended sign to the addressee, and this direction and restriction leads to the influence and persuasion that is obtained through the expressive means and the linguistic capabilities that the speaker has
Downloads
Download data is not yet available.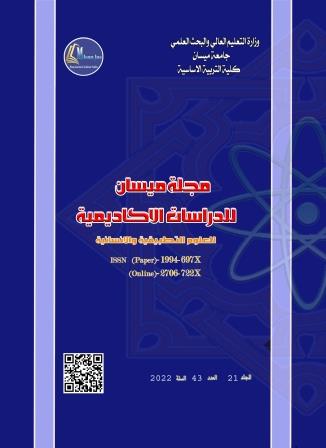 Copyright (c) 2022 Misan Journal of Academic Studies
This work is licensed under a Creative Commons Attribution-NonCommercial-NoDerivatives 4.0 International License.
The copyright is also the copyright of the magazine only.
All articles published in our magazine are subject to license terms
Creative Commons Attribution(CC BY-NC-ND 4.0) This license permits the content to be reproduced, redistributed and reused in whole or in part for any purpose free of charge, without any permission from the author(s), researcher or student.
Works submitted to Maysan Journal of Academic Studies for publication in the journal (CC BY-NC-ND 4.0) license terms. Where available content can be shared, distributed and replicated provided there is no commercial profit and appropriate credit must be given to the original source through sources or citations. It is mandatory to review any material used from other sources including shapes, tables, and images for re-use under the terms of the Creative Commons License (CC BY-NC-ND 4.0).Provided that there is no modification to the original content