The sacrifice in the Holy Qur'an Interpretive Analytical Study
Keywords:
the sacrifice, Ismail (peace be upon him), Hussein (peace be upon him), the miraculous dimension, the educational impact
Abstract
he Almighty said in his book: 'This is insight from your Lord, guidance and mercy' Al-A'raf (203), and in this guidance there is life for people, and this light is not for looking, but for life and behavior.
Yes, reason, instinct and knowledge cannot be dispensed with, but it is wrong to imagine that thanks to them, the sacred revelation is dispensed with.  If we are separated from the guidance of revelation, then we are not free from dissolution. And this is what we see in the Islamic society after they discarded the Book of God .In this research we deal with
one of the vocabulary of the Qur'an (the sacrifice) is an analytical study through research, on three paragraphs: (the sacrifice in language and idiomatically, the analysis of the Qur'anic texts and the reasons for the revelation, the sacrifice in Islamic thought.
Downloads
Download data is not yet available.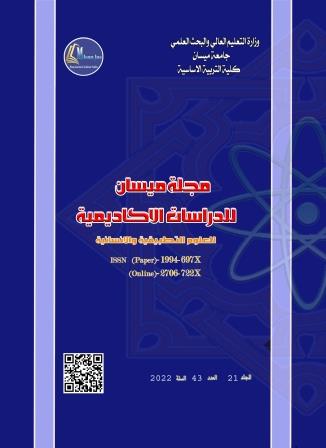 Copyright (c) 2022 Misan Journal of Academic Studies
This work is licensed under a Creative Commons Attribution-NonCommercial-NoDerivatives 4.0 International License.
The copyright is also the copyright of the magazine only.
All articles published in our magazine are subject to license terms
Creative Commons Attribution(CC BY-NC-ND 4.0) This license permits the content to be reproduced, redistributed and reused in whole or in part for any purpose free of charge, without any permission from the author(s), researcher or student.
Works submitted to Maysan Journal of Academic Studies for publication in the journal (CC BY-NC-ND 4.0) license terms. Where available content can be shared, distributed and replicated provided there is no commercial profit and appropriate credit must be given to the original source through sources or citations. It is mandatory to review any material used from other sources including shapes, tables, and images for re-use under the terms of the Creative Commons License (CC BY-NC-ND 4.0).Provided that there is no modification to the original content