Effects of educational unification
Keywords:
Monotheism- Educational Effects- Unit-the Union- existence
Abstract
Man believes in the existence of unseen power, and he needs it due to his weakness, poverty and nature but his ignorance and his distance from the righteous parents of God prevents him from knowing the truth and reaching it.
     But with education and upbringing and accompanying the righteous parents of God It makes it easier for him to get closer to knowledge. With this luminous knowledge, man becomes one of the monotheists, after it is fulfilled, He has the reality of monotheism in its true forms. That is, God Almighty is the One, He has no partner. And that God Almighty exists, real, spiritual, simple, devoid of all kinds of structure he has no part nor he is part of anything in order for this monotheism to be effective in human existence, it must be rationally established by evidence the consolidation of this important pillar (monotheism) in human belief leads to many educational effects on his individual and social life Including: self-awareness servitude, supplication, trust, unity and union with the order of existence, in addition to hope, tranquility, patience, and freedom.
Downloads
Download data is not yet available.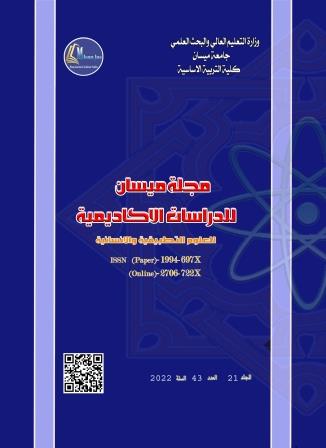 Copyright (c) 2022 Misan Journal of Academic Studies
This work is licensed under a Creative Commons Attribution-NonCommercial-NoDerivatives 4.0 International License.
The copyright is also the copyright of the magazine only.
All articles published in our magazine are subject to license terms
Creative Commons Attribution(CC BY-NC-ND 4.0) This license permits the content to be reproduced, redistributed and reused in whole or in part for any purpose free of charge, without any permission from the author(s), researcher or student.
Works submitted to Maysan Journal of Academic Studies for publication in the journal (CC BY-NC-ND 4.0) license terms. Where available content can be shared, distributed and replicated provided there is no commercial profit and appropriate credit must be given to the original source through sources or citations. It is mandatory to review any material used from other sources including shapes, tables, and images for re-use under the terms of the Creative Commons License (CC BY-NC-ND 4.0).Provided that there is no modification to the original content