Formal structure in sculptures (Ahmed Al Bahrani _ Alessandro Calo) (A comparative study )
Keywords:
Combination , Analysis , Formal Combination , assembly, modern Art
Abstract
The current research is concerned with studying (The Formal Combination in the Sculptures of Ahmed Al-Bahrani & Alessandro Calo) and discovering the assembly and synthetic technical skills of their sculptures. Hence, The first chapter included the methodological framework of the research, the research problem that formulated the hypothesis according to the following question (What is the formal combination in the sculptures of (Ahmed Al-Bahrani & Alessandro Calo)? Then, the importance of the research and the need for it, the research objective, the limits of the research, and the definition of terminology, while the theoretical framework included, first: (the concept of philosophical and artistic combination), second: (formal combination in modern and contemporary arts).  As for the research procedures, it included, first: the method used in the research, as the researcher relied on the analytical descriptive approach, then the researcher identified the research community with (60) sculptural works for both sculptors, then the research sample was determined, which was represented by (6) models chosen intentionally, then the researcher reviewed the results and conclusions.
Downloads
Download data is not yet available.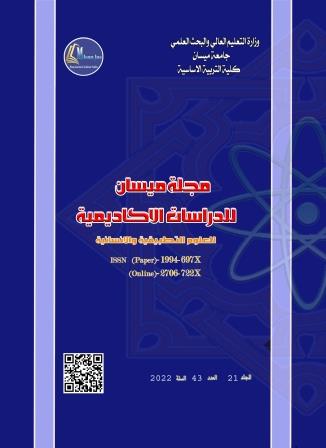 Copyright (c) 2022 Misan Journal of Academic Studies
This work is licensed under a Creative Commons Attribution-NonCommercial-NoDerivatives 4.0 International License.
The copyright is also the copyright of the magazine only.
All articles published in our magazine are subject to license terms
Creative Commons Attribution(CC BY-NC-ND 4.0) This license permits the content to be reproduced, redistributed and reused in whole or in part for any purpose free of charge, without any permission from the author(s), researcher or student.
Works submitted to Maysan Journal of Academic Studies for publication in the journal (CC BY-NC-ND 4.0) license terms. Where available content can be shared, distributed and replicated provided there is no commercial profit and appropriate credit must be given to the original source through sources or citations. It is mandatory to review any material used from other sources including shapes, tables, and images for re-use under the terms of the Creative Commons License (CC BY-NC-ND 4.0).Provided that there is no modification to the original content