The reality of spinsterhood in the community of the city of Alamara, causes and solutions
Keywords:
Late Marriage, Spinsterhood, Famlly, Social Status, Economic situation.
Abstract
The phenomenon of female spinsterhood is one of the social problems that spread in societies where wars abound and the economic, health and social reality deteriorates, especially in Arab societies in general and the study area in particular.
The research aims to reveal the phenomenon of delayed female marriage in the city of Al-Amarah during the year (2021), and to know the demographic, economic and social characteristics of spinster females. Among the economic, social, health, personal and other reasons contributed to the males' reluctance to marry and the rise of spinsterhood, and knowing the most important reasons for the delay in female marriage necessitated the development of solutions to them.
Downloads
Download data is not yet available.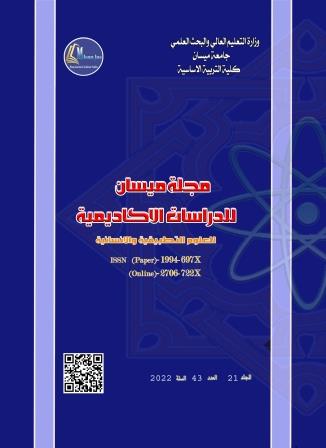 Copyright (c) 2022 Misan Journal of Academic Studies
This work is licensed under a Creative Commons Attribution-NonCommercial-NoDerivatives 4.0 International License.
The copyright is also the copyright of the magazine only.
All articles published in our magazine are subject to license terms
Creative Commons Attribution(CC BY-NC-ND 4.0) This license permits the content to be reproduced, redistributed and reused in whole or in part for any purpose free of charge, without any permission from the author(s), researcher or student.
Works submitted to Maysan Journal of Academic Studies for publication in the journal (CC BY-NC-ND 4.0) license terms. Where available content can be shared, distributed and replicated provided there is no commercial profit and appropriate credit must be given to the original source through sources or citations. It is mandatory to review any material used from other sources including shapes, tables, and images for re-use under the terms of the Creative Commons License (CC BY-NC-ND 4.0).Provided that there is no modification to the original content