Urban Sprawl of Agricultural Areas in Amara City
Keywords:
Urban Expansion, Agricultural Lands, Amara City, Land Uses, urbanization.
Abstract
Urban sprawl against the agricultural lands is considered one of the most  important problems resulted from the swift housing growth in the developing states, for the agricultural lands are exposed to pressures and erosion as a result of this sprawl, urbanization process and weakness of deterrent laws. The Amara City had witnessed a noticed growth in averages of housing as a result of development requirements, population in the city rose from 272286 persons in 1997 to 577543 persons in 2020, and consequently caused settlement of numbers of inhabitants in the agricultural zones and changed plenty of land; from agricultural to housing and service ones, the matter that shared in the decrease of agricultural lands in Amara City, the thing that the occupied lands, preoccupied with housing and services amounted to 251 hectares during the five stages in which the city passed.
Downloads
Download data is not yet available.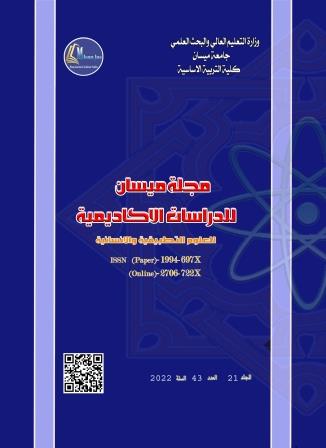 Copyright (c) 2022 Misan Journal of Academic Studies
This work is licensed under a Creative Commons Attribution-NonCommercial-NoDerivatives 4.0 International License.
The copyright is also the copyright of the magazine only.
All articles published in our magazine are subject to license terms
Creative Commons Attribution(CC BY-NC-ND 4.0) This license permits the content to be reproduced, redistributed and reused in whole or in part for any purpose free of charge, without any permission from the author(s), researcher or student.
Works submitted to Maysan Journal of Academic Studies for publication in the journal (CC BY-NC-ND 4.0) license terms. Where available content can be shared, distributed and replicated provided there is no commercial profit and appropriate credit must be given to the original source through sources or citations. It is mandatory to review any material used from other sources including shapes, tables, and images for re-use under the terms of the Creative Commons License (CC BY-NC-ND 4.0).Provided that there is no modification to the original content