Epidemics in the holy quran a study of causes and treatments
Keywords:
Quran, epidemic, stone, prevention, treatment
Abstract
    The Noble Qur'an is the approach of the Creator and the eternal miracle of the Messenger by which the righteousness of humanity lies in the society in every time and place. Whoever follows it has achieved the goal and happiness. It is the constitution and method of Islamic Sharia, which has set for humanity a scientific and educational approach to educating, educating and purifying man to reach his spiritual and physical perfection. Mental and physical health and the causes of chronic diseases and epidemics, developing solutions and preventing them through an integrated system through the Qur'anic cultural guidelines and awareness that set the boundaries and barriers between man and his behavior to prevent the damages that occur and are expected throughout history
In this study, the research deals with epidemics in the Qur'an, studying the causes of human behavior and not taking care of purities and impurities and other abominations that cause diseases and how to prevent and treat them through the Qur'anic approach and Islamic law
Downloads
Download data is not yet available.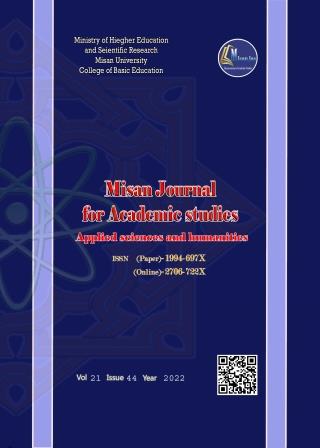 Copyright (c) 2022 Misan Journal of Academic Studies
This work is licensed under a Creative Commons Attribution-NonCommercial-NoDerivatives 4.0 International License.
The copyright is also the copyright of the magazine only.
All articles published in our magazine are subject to license terms
Creative Commons Attribution(CC BY-NC-ND 4.0) This license permits the content to be reproduced, redistributed and reused in whole or in part for any purpose free of charge, without any permission from the author(s), researcher or student.
Works submitted to Maysan Journal of Academic Studies for publication in the journal (CC BY-NC-ND 4.0) license terms. Where available content can be shared, distributed and replicated provided there is no commercial profit and appropriate credit must be given to the original source through sources or citations. It is mandatory to review any material used from other sources including shapes, tables, and images for re-use under the terms of the Creative Commons License (CC BY-NC-ND 4.0).Provided that there is no modification to the original content