The New Arabic Language Book For The Fourth Preparatory (Analytic and Evaluation Studied)
Keywords:
fourth preparatory, The Curriculum, Grievances, Mistakes, Right.
Abstract
This research highlights on the linguistic content and its scientific about the new Arabic book for fourth preparatory class. As follows the approach of groups authors, its chapters and its sections with the description and analysis and its evaluation. This research aims to diagnose prose of the book and its advantages to benefit from them in the followed published experiments and stand on placements of bugs, disorder, omissions and forgetting. And alarms on
 placements of mistakes to statement of the face of right things according to the guidance of the words of Arabs which were come in the inherited of Arabic's linguistic and Arabic's language and its grammar. At it all that, was an aim of the researcher, his attentions and his intention to help taking out this book in the ideal image. And upgrading with the authoring level in this book
Downloads
Download data is not yet available.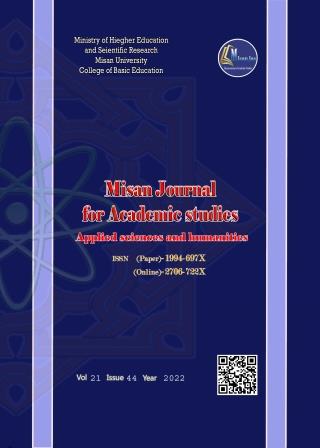 Copyright (c) 2022 Misan Journal of Academic Studies
This work is licensed under a Creative Commons Attribution-NonCommercial-NoDerivatives 4.0 International License.
The copyright is also the copyright of the magazine only.
All articles published in our magazine are subject to license terms
Creative Commons Attribution(CC BY-NC-ND 4.0) This license permits the content to be reproduced, redistributed and reused in whole or in part for any purpose free of charge, without any permission from the author(s), researcher or student.
Works submitted to Maysan Journal of Academic Studies for publication in the journal (CC BY-NC-ND 4.0) license terms. Where available content can be shared, distributed and replicated provided there is no commercial profit and appropriate credit must be given to the original source through sources or citations. It is mandatory to review any material used from other sources including shapes, tables, and images for re-use under the terms of the Creative Commons License (CC BY-NC-ND 4.0).Provided that there is no modification to the original content