Faces of agreement between the interpretation of Al-Tibyan and those who preceded it from the Shiite commentators in the curriculum, the sources) are a comparative study
Keywords:
forms of agreement of agreement, explanation of illustration, previous explanations, approach, sources
Abstract
The research on the aspects of agreement among the commentators is of great importance in knowing the approach and style of each exegete and the sources that he relied on. Then it was compared with the rest of the commentators to find out the aspects of agreement between them and the results obtained from it. Among the factors that call for research is to know the secret of the interest of scholars and commentators, as it is one of the important topics through which we can reach the will of God Almighty, get to know the topic and find out its secrets and the Quranic knowledge it contains; In order to deduce from it the aspects of the agreement between Al-Tusi in the illustration and those who preceded him from the Shiite commentators (in the method and the sources), then presenting and categorizing them within special chapters and comparing them with the explanatory opinions of each of the commentators and coming up with the results.
Downloads
Download data is not yet available.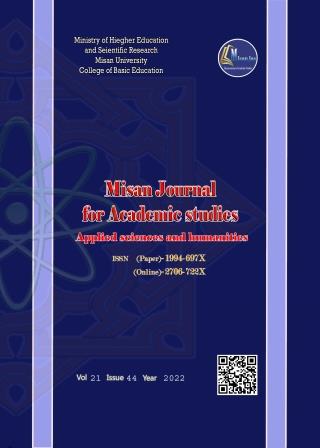 Copyright (c) 2022 Misan Journal of Academic Studies
This work is licensed under a Creative Commons Attribution-NonCommercial-NoDerivatives 4.0 International License.
The copyright is also the copyright of the magazine only.
All articles published in our magazine are subject to license terms
Creative Commons Attribution(CC BY-NC-ND 4.0) This license permits the content to be reproduced, redistributed and reused in whole or in part for any purpose free of charge, without any permission from the author(s), researcher or student.
Works submitted to Maysan Journal of Academic Studies for publication in the journal (CC BY-NC-ND 4.0) license terms. Where available content can be shared, distributed and replicated provided there is no commercial profit and appropriate credit must be given to the original source through sources or citations. It is mandatory to review any material used from other sources including shapes, tables, and images for re-use under the terms of the Creative Commons License (CC BY-NC-ND 4.0).Provided that there is no modification to the original content