The speech Act of Apology in Iraqi Arabic: A Socio-pragmatic Study
Keywords:
pragmatic interaction, culture, speech acts, apologies, Iraqi Arabic
Abstract
The current research is a study of the number of occurrence, classification, and sequence of apology as a speech act in Iraqi Arabic. The examination depends on a set of 550 natural apology interactions obtained by ethnographic observation method. The findings indicated that  the obvious utterance of apology with a 'demand for forgiveness'اسف('fwan)[1] (sorry) was the most frequent apology speech act in Iraqi Arabic  and the above token with 'confession of being guilty' constituted the common set of apologies in Iraqi Arabic.  The study also indicated that the same combination of apology speech acts utilized in other examined languages ​​was frequent in Iraqi Arabic; however, the tendencies for employing these speech acts seem to be culturally dependent.
[1]see appendix (1) for transcription and glossing of Arabic characters.
Downloads
Download data is not yet available.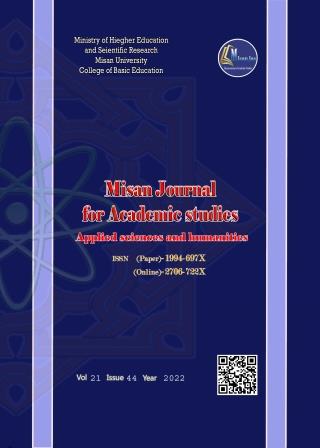 Copyright (c) 2022 Misan Journal of Academic Studies
This work is licensed under a Creative Commons Attribution-NonCommercial-NoDerivatives 4.0 International License.
The copyright is also the copyright of the magazine only.
All articles published in our magazine are subject to license terms
Creative Commons Attribution(CC BY-NC-ND 4.0) This license permits the content to be reproduced, redistributed and reused in whole or in part for any purpose free of charge, without any permission from the author(s), researcher or student.
Works submitted to Maysan Journal of Academic Studies for publication in the journal (CC BY-NC-ND 4.0) license terms. Where available content can be shared, distributed and replicated provided there is no commercial profit and appropriate credit must be given to the original source through sources or citations. It is mandatory to review any material used from other sources including shapes, tables, and images for re-use under the terms of the Creative Commons License (CC BY-NC-ND 4.0).Provided that there is no modification to the original content