Preparation of the Antioxidant Compounds from the Styrene and P-Benzoquinone Compounds to the Lubricant Oils
Keywords:
(1-Octanethiol), (1-Dodecanethiol), Styrene, P-Benzoquinone, Michael addition, Lubricants oils.
Abstract
In this study, new antioxidants were synthesized using (thiol-ene) click reaction where, octane and dodecane thiol were added to styrene which produced from plastic waste as (1:1) mole ratio at rate temperature to obtain the following antioxidant compounds: Octyl(2-phenylethyl) sulfane and Dodecyl(2-phenylethyl) sulfane respectively. Octane and dodecane thiol were also added to p-benzoquinone compound to obtain of the following antioxidant compounds, 2-(Octylthio) benzene-1,4-diol and 2-(Dodecylthio) benzene-1,4-diol respectively.    These synthesized antioxidants were added to the lubricating oils such as, engine and hydraulic oils with base oil as a solvent, and then mixed well. Then the characterization of these synthesized antioxidant compounds were specified by using techniques such as, (FT-IR), (NMR) and mass spectroscopy. Then study their efficacy as an antioxidant compounds by using of (FT-IR) and (cyclic voltammetry) techniques.
Downloads
Download data is not yet available.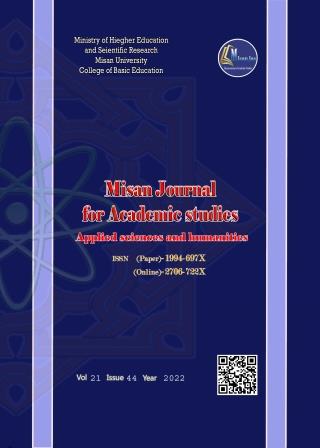 Copyright (c) 2022 Misan Journal of Academic Studies
This work is licensed under a Creative Commons Attribution-NonCommercial-NoDerivatives 4.0 International License.
The copyright is also the copyright of the magazine only.
All articles published in our magazine are subject to license terms
Creative Commons Attribution(CC BY-NC-ND 4.0) This license permits the content to be reproduced, redistributed and reused in whole or in part for any purpose free of charge, without any permission from the author(s), researcher or student.
Works submitted to Maysan Journal of Academic Studies for publication in the journal (CC BY-NC-ND 4.0) license terms. Where available content can be shared, distributed and replicated provided there is no commercial profit and appropriate credit must be given to the original source through sources or citations. It is mandatory to review any material used from other sources including shapes, tables, and images for re-use under the terms of the Creative Commons License (CC BY-NC-ND 4.0).Provided that there is no modification to the original content