Review on Frankincense Essential Oils: Chemical Composition and Biological activities
Sura M. Abbood1*,Sura Mohammed Kadhim2, Aziz Yasir Hasan Al-Ethari3, Zyad H AL-Qaisia1, Mustafa Taha Mohammed1

1 Department of Chemistry, College of Science, Mustansiriyah University, Baghdad, Iraq 2 Ministry of Education, Rusafa-1, Iraq 3 Department of Biology, College of Science, University of Kerbala *Corresponding author: Sura Mohsin Abbood, Department of Chemistry, Mustansiriyah University, Baghdad, Iraq.

https://orcid.org/0000-0002-8671-4447
Keywords:
Frankincense essential oil, Antioxidant, Anti-inflammatory, Coronaviruses, Monoterpenes.
Abstract
Frankincense plant is one of the most widely used groups of medicinal herbs and has been extensively used due to the biological activities it possesses. Recently, a considerable literature has developed around the theme of frankincense and its different components, alongside with numerous researches published on its historical role in curing various chronic diseases. The present review has focused on the chemical ingredients of frankincense essential oil and pharmacological activities of these components. Essential oils (EOs) are known to have anti-inflammatory and antiviral effects in addition to what being suggested about having activity against virus of SARC-CoV-2. These activities, which attributed to different chemical ingredients such as phenolic monoterpenes could have a protection and/or relief of some illnesses. The current study provides reference for further research in attempt to become a relevant basis of development for new remedies to combat chronic disease and viral infection such as Coronavirus.
Downloads
Download data is not yet available.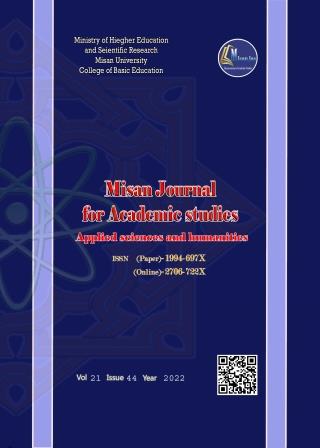 Copyright (c) 2022 Misan Journal of Academic Studies
This work is licensed under a Creative Commons Attribution-NonCommercial-NoDerivatives 4.0 International License.
The copyright is also the copyright of the magazine only.
All articles published in our magazine are subject to license terms
Creative Commons Attribution(CC BY-NC-ND 4.0) This license permits the content to be reproduced, redistributed and reused in whole or in part for any purpose free of charge, without any permission from the author(s), researcher or student.
Works submitted to Maysan Journal of Academic Studies for publication in the journal (CC BY-NC-ND 4.0) license terms. Where available content can be shared, distributed and replicated provided there is no commercial profit and appropriate credit must be given to the original source through sources or citations. It is mandatory to review any material used from other sources including shapes, tables, and images for re-use under the terms of the Creative Commons License (CC BY-NC-ND 4.0).Provided that there is no modification to the original content