Competencies of E-teaching
Asraa ussain Aliwi / Ahmed Abdul MohsinKhadim

University of Misan/College of Basic Education
Keywords:
The concept of E-learning ,benefits of E-learning ,Obstacles
Abstract
One of the most important challenges facing the educational process today is the ability of teachers to discover new educational methods based on knowledge of modern media in order to design an appropriate learning environment for e-learning, and to be creative in its use and investment according to the needs of learners, and this provides continuous progress in the field of technology. Education, due to the circumstances that the whole world is going through as a result of the Covid-19 virus, so the international educational process was subjected to a review in order to keep pace with modern requirements and technologies available for the continuation of education in schools and universities and at all educational levels. The solution is to continue between the teacher and the learner, but the field of e-learning and its solutions will not be successful if it lacks basic factors in some countries and some curricula .E-learning has not achieved many tasks in an indirect or invisible manner for some fields, which sees that e-learning will block the educational process in a deep way.
DOI /10.54633/2333-021-042-006
Downloads
Download data is not yet available.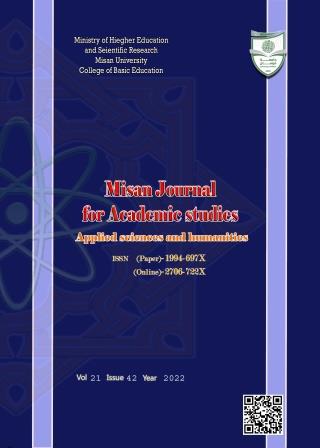 Copyright (c) 2022 Misan Journal of Academic Studies
This work is licensed under a Creative Commons Attribution-NonCommercial-NoDerivatives 4.0 International License.
The copyright is also the copyright of the magazine only.
All articles published in our magazine are subject to license terms
Creative Commons Attribution(CC BY-NC-ND 4.0) This license permits the content to be reproduced, redistributed and reused in whole or in part for any purpose free of charge, without any permission from the author(s), researcher or student.
Works submitted to Maysan Journal of Academic Studies for publication in the journal (CC BY-NC-ND 4.0) license terms. Where available content can be shared, distributed and replicated provided there is no commercial profit and appropriate credit must be given to the original source through sources or citations. It is mandatory to review any material used from other sources including shapes, tables, and images for re-use under the terms of the Creative Commons License (CC BY-NC-ND 4.0).Provided that there is no modification to the original content