The Theory of Ratification and Proscription from the perspective of Sunnis
Hussein Rajabi / Mehdi Norouzi / Mahdi Sedaqat

UNIVERSITY OF RELIGIONS AND DENOMINATIONS - IRAN
Keywords:
Ratification Proscription , Sunnis, diligence, hardworking,
Abstract
 The issue of Ratification and Proscription is one of issues in which the dispute occurred between scholars of the fundamentals of the various Islamic schools of thought in the past and the present. The point of contention in this issue is regarding the subsidiary legal rulings and legal matters, not real and rational matters. This research is of particular importance, and it has multiple jurisprudential and jurisprudential results, especially in the issue of partiality. What is known among a group of scholars of the fundamentals is that all Sunni scholars are followers of the theory of Ratification in opposition to the Imam scholars as they are Proscription, but by referring to the fundamental books of the Sunnis, it can be noted that the attribution of the statement of correction to all of their scholars is not correct. Rather, it can be said that many of them are Proscription, due to the importance and the role of choosing the most accurate sayings in the deductions of Islamic jurists, we have briefly addressed in this article a statement and review of the evidence of public scholars on the issue of Ratification and Proscription. Our research has taken the descriptive and analytical method, with a thorough investigation, in order to reach the desired results.
DOI /10.54633/2333-021-042-009
Downloads
Download data is not yet available.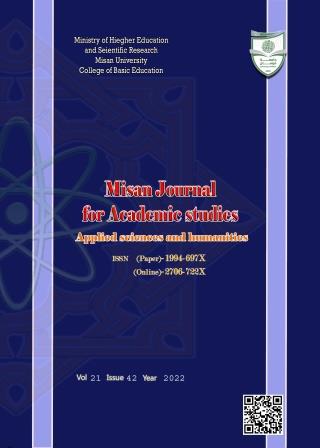 Copyright (c) 2022 Misan Journal of Academic Studies
This work is licensed under a Creative Commons Attribution-NonCommercial-NoDerivatives 4.0 International License.
The copyright is also the copyright of the magazine only.
All articles published in our magazine are subject to license terms
Creative Commons Attribution(CC BY-NC-ND 4.0) This license permits the content to be reproduced, redistributed and reused in whole or in part for any purpose free of charge, without any permission from the author(s), researcher or student.
Works submitted to Maysan Journal of Academic Studies for publication in the journal (CC BY-NC-ND 4.0) license terms. Where available content can be shared, distributed and replicated provided there is no commercial profit and appropriate credit must be given to the original source through sources or citations. It is mandatory to review any material used from other sources including shapes, tables, and images for re-use under the terms of the Creative Commons License (CC BY-NC-ND 4.0).Provided that there is no modification to the original content