Designing a contemporary public relations program to build trust between the institution and the public
Keywords:
The program ، Public relations ،The institution ، The public .
Abstract
     This research attempts to show the importance of having contemporary public relations programs in government institutions and in various sectors in order to carry out its mission in achieving understanding between the institution and its audiences through various communication programs that aim to overcome obstacles and contribute to solving problems facing the masses during crises, in addition to that These programs share with the institution's policies and the behavior of its citizens in order to create a state of trust and understanding between the institution and its audiences and between the public themselves. Therefore, government institutions should show their keenness to benefit from the art of public relations in achieving adaptation and compatibility between them and the public by designing an integrated public relations program. It works to enhance the public's confidence in the institution and the services it provides, as the results of the research showed: that government institutions were not built on a sound institutional basis, and therefore this affected in one way or another the form of the relationship between these institutions and their audiences, in addition to that these institutions did not show their eagerness to benefit One of the public relations programs in enhancing confidence between them and the masses, and public relations programs are able to increase awareness among the masses to be able to In order to assimilate the circumstances surrounding them, and enhance their ability to transform conditions in their favor, which will be positively reflected in the life of the individual and society. And emergency events, just as the researchers reached to design a contemporary institutional public relations program based on many requirements and indicators derived from the levels of technological development and institutional performance of institutions in general.
Downloads
Download data is not yet available.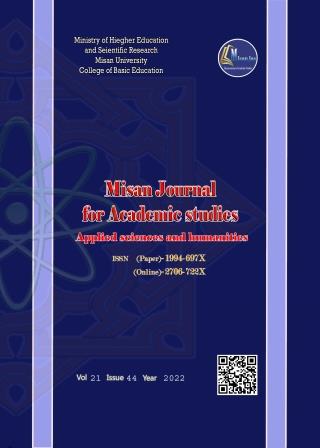 Copyright (c) 2022 Misan Journal of Academic Studies
This work is licensed under a Creative Commons Attribution-NonCommercial-NoDerivatives 4.0 International License.
The copyright is also the copyright of the magazine only.
All articles published in our magazine are subject to license terms
Creative Commons Attribution(CC BY-NC-ND 4.0) This license permits the content to be reproduced, redistributed and reused in whole or in part for any purpose free of charge, without any permission from the author(s), researcher or student.
Works submitted to Maysan Journal of Academic Studies for publication in the journal (CC BY-NC-ND 4.0) license terms. Where available content can be shared, distributed and replicated provided there is no commercial profit and appropriate credit must be given to the original source through sources or citations. It is mandatory to review any material used from other sources including shapes, tables, and images for re-use under the terms of the Creative Commons License (CC BY-NC-ND 4.0).Provided that there is no modification to the original content