The Effectiveness of Training on Some Self-Regulated Learning Strategies in Improving Self-Efficacy and Academic Performance in the English Language
Keywords:
self-regulated learning, cognitive reading comprehension metacognitive reading comprehension, 9th graders with reading disabilities.
Abstract
This takes a look at can also especially inspire male college students to apply a one-step evaluation approach previous to reading requests to create analyzing comprehension solutions. Also, despite the fact that lady university college students normally said decrease abnormalities on self-efficacy than male university college students, there has been no distinction with inside the consequences of English searches among the 2 groups. Which indicates that for students, perceived self-efficacy isn't ok to expect usual instructional fulfillment in phrases of peer fulfillment. Instead, elements of cultural and social context in addition to self-expectation levels, attributions, parental expectations, preoccupation with failure, and social values have to be considered, which may also weigh greater on the general academic attainment of a university. college students.
Downloads
Download data is not yet available.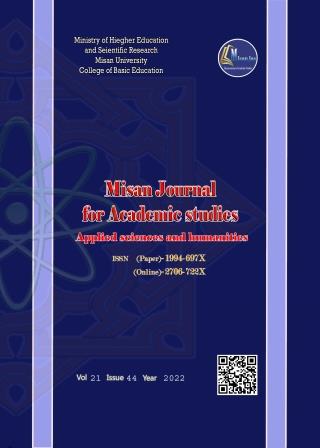 Copyright (c) 2022 Misan Journal of Academic Studies
This work is licensed under a Creative Commons Attribution-NonCommercial-NoDerivatives 4.0 International License.
The copyright is also the copyright of the magazine only.
All articles published in our magazine are subject to license terms
Creative Commons Attribution(CC BY-NC-ND 4.0) This license permits the content to be reproduced, redistributed and reused in whole or in part for any purpose free of charge, without any permission from the author(s), researcher or student.
Works submitted to Maysan Journal of Academic Studies for publication in the journal (CC BY-NC-ND 4.0) license terms. Where available content can be shared, distributed and replicated provided there is no commercial profit and appropriate credit must be given to the original source through sources or citations. It is mandatory to review any material used from other sources including shapes, tables, and images for re-use under the terms of the Creative Commons License (CC BY-NC-ND 4.0).Provided that there is no modification to the original content