The reality of the practice of science teacher at the primary level Principles of constructivism theory from the point of view of the supervisors of the book of science
Keywords:
: practice, subject supervisors, science teachers, constructivist theory, primary stage
Abstract
The current research aims to know the reality of science teachers' practice in the primary stage of the principles of constructivist theory from the point of view of the subject supervisors. To achieve the objectives of the study, the researchers used the descriptive approach (work analysis) and the study sample consisted of (72) As a supervisor and supervisor, they prepared a questionnaire consisting of (41) items distributed on (6) previous knowledge of learners, implementation of the lesson with the participation of learners, learning science is an active constructive process, learning takes place through social dialogue, employing the environment and the local community as a source of learning, evaluating learners, To treat the data statistically, the researchers used the percentage, standard deviations, and weighted means. After analyzing the data, the researchers concluded that the level of practice of science teachers in the elementary school for the principles of constructivist theory was moderately high. This result is not at the level hoped for to achieve educational outcomes characterized by efficiency and high quality, and that some of the principles of the constructivist theory were practiced to a moderate degree and others came at a low level of practice, and perhaps the principle related to Perhaps the principle related to (learning takes place through social dialogue) was at the bottom of the relative order among the rest of the principles in terms of the degree of practice.
Downloads
Download data is not yet available.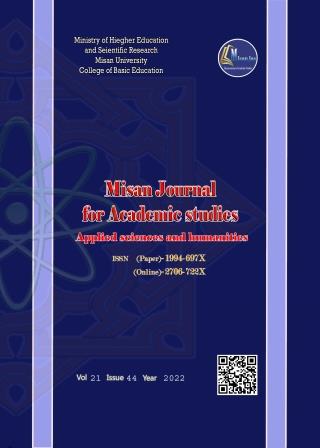 Copyright (c) 2022 Misan Journal of Academic Studies
This work is licensed under a Creative Commons Attribution-NonCommercial-NoDerivatives 4.0 International License.
The copyright is also the copyright of the magazine only.
All articles published in our magazine are subject to license terms
Creative Commons Attribution(CC BY-NC-ND 4.0) This license permits the content to be reproduced, redistributed and reused in whole or in part for any purpose free of charge, without any permission from the author(s), researcher or student.
Works submitted to Maysan Journal of Academic Studies for publication in the journal (CC BY-NC-ND 4.0) license terms. Where available content can be shared, distributed and replicated provided there is no commercial profit and appropriate credit must be given to the original source through sources or citations. It is mandatory to review any material used from other sources including shapes, tables, and images for re-use under the terms of the Creative Commons License (CC BY-NC-ND 4.0).Provided that there is no modification to the original content